On this week's episode of Humanize Your Workplace, we are joined by Dr. Alauna.
Dr. Alauna is a board-certified Psychiatrist, Clinician Educator, Author, and Empathy Expert with the mission to education every person on how to heal from and break the trauma cycle to evolve our human species. She graduated summa cum laude from Xavier University of Louisiana in New Orleans and obtained her medical degree from Baylor College of Medicine in Houston, TX. After a 12 year career treating thousands of US military veterans with PTSD, anxiety and trauma-related conditions, and serving as an assistant professor at Baylor College of Medicine, Dr. Alauna retired from clinical medicine. Her new role is to educate the world on how trauma connects us all.
In 2018, she founded the Dr. Alauna Trauma Recovery Institute, a non-profit organization dedicated to eradicating trauma worldwide by providing trauma-informed public education and professional training in Empathy Skills Practice™ , a transformative method of understanding the power of one's Sacred Self. ESP is a reflective and interactive "Skills over Pills" approach, combining education with mindful actions that resonate with any audience, regardless of age, profession, education or circumstance. Her message of healing is designed to empower people to move from simply surviving in the face of trauma, to thriving in Your Best Self.You can find Dr. Alauna on Facebook, Instagram, Twitter, and YouTube.
We chat about:
Redefining trauma
Recognizing the signs of trauma
How leaders can provide support
Empathy strategies
To listen to this week's episode, head over to Google Podcasts, Spotify, Apple Podcasts, Stitcher,  or check it out below.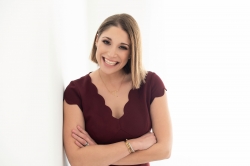 Latest posts by Alissa Carpenter
(see all)