This week on Humanize Your Workplace, I am joined by Alana Hill.
Alana is an international change leadership expert, inspiring professionals to lead change in their lives and their organizations. She is a passionate energy industry veteran who has paved the way for women leaders, with a focus on women of color. Her experience as an engineer and certified Project Management Professional in talent development provides real‐world insight into how people and teams can excel. Throughout her career, Alana has led diverse teams and delivered high-impact workshops all over the world!
With over 20 years of cross-functional leadership and training expertise, Alana helps individuals and organizations accomplish their goals by utilizing sharp analysis, strategic planning, and interpersonal skills development. She helps leaders balance cognitive ability and emotional intelligence to improve team dynamics and performance. Alana provides her clients with a combination of critical thinking and compassionate leadership, which she labels "Leading Change the Ms. Engineer Way®". She has proudly served global Fortune 500 corporations, small technology companies, and non-profits. Her authenticity and adaptability make her an asset across the professional spectrum.
Before establishing 2Hill Consulting Services, Alana enjoyed a colorful career with the international technology company Schlumberger advancing from a Field Engineer to a Program Manager. In her tenure with the oilfield services giant, she not only managed multiple technology implementations, but she also learned to drive an 18-wheeler! Alana holds a B.S. in Petroleum Engineering from Texas A&M University and has been a valued champion for diversity & inclusion.
Together with her husband, she has raised four handsome boys as part of a beautiful blended family. As a passionate ministry leader and teacher, Alana continues to pour God's love into the children and youth she encounters. As an involved mother and mentor, she offers encouragement and advice to parents of children of all ages. Her faith, perseverance, and desire to encourage others fuels her speaking and writing. Her first two books use her gift of storytelling to help give meaning and purpose to many of life's challenges: Love is a Catalyst, where she shares her family's faith during their trials and triumphs over cancer; and Love is a Catalyst: The Pain Behind the Purpose, her inspiring memoir of overcoming adversity and growing in her faith. Through examples and exercises in her newest book, What's Your Catalyst? The Power of Managed Change, you will be taken on a journey to discover your passions, talents, and path to being a more effective leader at work and at home.
Alana is a servant leader and member of the National Speakers Association, Project Management Institute, Toastmasters International, and the Association for Talent Development. As a strong advocate for corporate and personal philanthropy, Alana has donated her time and talents to local School Districts, Texas PTA, MD Anderson Cancer Center, and other civic and charitable organizations. When she is not traveling the globe, you will find her running and serving in her church and community.
We chat about
Transformation in the workplace
Action bias
Psychological safety
To listen to this week's episode, head over to Google Podcasts, Spotify, Apple Podcasts, Stitcher, or check it out below: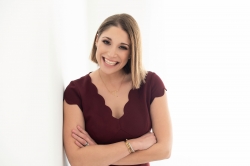 Latest posts by Alissa Carpenter
(see all)