Corporate in-person and virtual Programs
Employee Engagement / COMMUNICATIONS TRAINING / diversity, inclusion and equity Programs
There's not a magic pill or button to increase employee engagement and communication. But there are strategies and opportunities.  And finding the unique strategy to meet your organization's needs is not something you should have to do on your own. Finding the right partner to help transform your workplace, increase collaboration, and enhance your company culture is crucial.  I work directly with you to identify and create solutions for the business issues you are looking to address.
As a consultant and learning specialist, we collaborate with organizations by:
Facilitating on-going learning programs
Serving as an advisor to ensure that employee engagement is being monitored, proactively addressed, and part of your organization's KPIs
Developing customized learning to meet the unique needs of your organization and employees
Evaluating the effectiveness of current initiatives and conducting a real time analysis on the current state of your organization's engagement
Our powerful learning solutions move past just talking about behaviors to driving behavioral change.
We do this by not just sharing information but by actually teaching with hands-on activities to practice and improve over time.
We aim to:
Enhance teamwork and collaboration in multi-generational workforces
Increase workplace communication
Create efficient and productive teams
Support diversity and inclusion
Our programs are:
Relevant to the learners within your organization, group, and/or event
Accessible and offered in multiple formats (virtual and in person)
Effective in driving real behavior change in learners
EVERYTHING'S NOT OK AND THAT'S OK is recognized by SHRM to offer Professional Development Credits (PDCs) for the SHRM-CP® or SHRM-SCP®.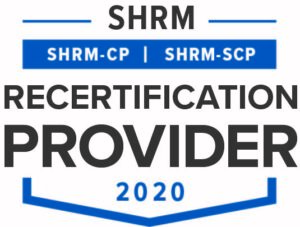 Internal Communication Strategies for Reopening as a Result of the COVID-19 Pandemic
With the upcoming transition back to a physical workspace, organizations need to have a strategic communication plan. Employees may have concern about your company's ability to provide a safe work environment, additional or alternative job functions, and accommodations for this "new normal."
This program will break down how to effectively communicate with employees as they start to return to work due to the COVID-19 pandemic. It will walk through areas of employee concern, change management protocols, mode of communication and best communication practices to reach and reduce anxiety during this time.
 LEARNING OUTCOMES
Participants will:
Identify new policies and procedures to address within internal communication
Recognize workplace anxiety due to COVID-19 and how to mitigate it through best communication practices
Address impending change and its impact on employee safety, security and ability to perform job functions
Identify appropriate medium (s) and channels to effectively reach employees
Having Real Conversations about Diversity, Inclusion and Belonging

In terms of creating the best possible workplace culture that we can. We want an environment where all individuals are treated fairly and respectfully, have equal access to opportunities and resources, and can fully contribute to the organization's success.

It's not just about feeling better on the job. Research has demonstrated that companies with diverse workforces are more likely to financially outperform national averages.

The diversity initiatives of the past have tried to make sure everyone had a seat at the table. That's a good first step, but much more needs to be done so that everyone feels like they belong at that table. This is the essence of inclusivity. An inclusive environment encompasses all types of diversity, and actively takes steps to make sure everyone is comfortable and welcome.

This program will break down the language of diversity and inclusion, and walk through some solutions and inclusive best practices. This will involve potentially having some uncomfortable conversations along the way. However, before we conclude, you will be equipped with tools and techniques you can use to navigate your way to creating a collaborative and inclusive environment.

LEARNING OUTCOMES:

Employees will:
Create an environment of mutual respect and inclusion.
Recognize and accept their own biases and preferences.
Define microaggressions and their impact and give an example from their own life.
Compare and contrast today's landscape of diversity and inclusion with earlier policies and programs.
Describe how to find out other people's preferences and build meaningful relationships.
Make more conscious language choices.
Have honest and open dialogues respectfully, without making the other person uncomfortable.
Increase their comfort level when sharing their personal preferences and experiences.
Express their feelings constructively and appropriately when something or someone has offended them.
Define privileged explaining, its impact on the work culture, and how to share personal expertise in a way that it will be heard and acknowledged.
Define ally, how to be one by getting involved and showing support without making assumptions.
Describe tunnel vision, and how to recognize your own privilege.
Use diversity and inclusion terminology with confidence.
This program is valid for 2.5 PDCs for the SHRM-CP® or SHRM-SCP®.

Putting Our Strengths Into Action

Too often, people avoid difficult conversations. But these discussions often need to happen to move forward. There's no denying that our workplaces are more diverse than ever. Age, race, gender – there are so many different perspectives and experiences being brought to the table. And the best employees and leaders know that harnessing the power of these differences will build stronger teams, ideas, and organizations. But how do we do this? If we all think, feel, and act so differently, how do we get anything done?

The first step is recognizing that these differences exist. And that they're here to stay. We need to respect and embrace our varied viewpoints, and then we can start to communicate across (not against) them.

In this session, the audience will learn a three-step process to communicate with their employees and colleagues, and how to create a sustainable plan for ongoing workplace communication.

LEARNING OUTCOMES:

Each employee will:
Connect personal strengths to managing tasks and relationships with coworkers;
Have conversations with colleagues to understand why their strengths are assets instead of frustrations;
Reflect on which CliftonStrengths domain that fits their character (if applicable);
Provide strengths-based feedback to team members;
Align tasks with strengths;
Provide critical feedback about projects;
Focus on results of projects;
Act vulnerably to let colleagues support them to reach personal workplace goals; and
Find unique professional development opportunities
This program is valid for 1 PDCs for the SHRM-CP® or SHRM-SCP®.

Connecting a Virtual Workforce

Over the past decade, remote work has increased more than one hundred fifteen percent. One-third of employees around the world work remotely often or full time. This allows companies to hire individuals with less importance on their physical location, and more focus on characteristics like experience, talents, and strengths. Members of virtual teams rarely or never work face-to-face, which can present challenges. In this topic, you will explore various benefits and pitfalls of an ever-growing virtual workforce. You will also gain strategies to help you and your colleagues succeed when working in a virtual environment.

 LEARNING OUTCOMES:

Each employee will:
Develop strategies to be heard, valued, and appreciated as a member of a virtual workforce;
Gain strategies to develop positive relationships with virtual team members;
Describe appropriate ways to use technologies to meet organizational and departmental goals;
Identify individuals inside and outside of the organization who can train them to use appropriate technology platforms;
Establish guidelines for successful virtual team meetings;
Provide ideas for engaging with virtual team members beyond business;
Use data to identify goals reached by team members during the year;
Provide suggestions for new technologies that can help the team succeed;
Establish new practices to enhance productivity; and
Describe concerns that have arisen during the year and discuss possible solutions.
This program is valid for 1 PDCs for the SHRM-CP® or SHRM-SCP®.

Turning Down Ideas, Not People

While it is not realistic to like every idea someone brings to you, the way you provide positive or negative feedback to others is important. Shooting down someone's idea before he or she expresses the entire plan can make someone feel distressed. People want to know you have heard their idea, listened, and then made a thoughtful decision.

The reason you turn down someone's idea also matters. His or her idea may not seem plausible, or you may not have time to support the plan. Although you want to be an asset to your team, sometimes helping your colleagues may take away from the quality of other work responsibilities. In this topic, you will discover how to turn down ideas instead of people. You will also examine how to say no to people, and determine the best way to set boundaries.

LEARNING OUTCOMES:

Each employee will:
Reflect on past situations where he or she turned down people instead of ideas.
Reflect on past situations where he or she said yes instead of no like was truly wanted.
Communicate with colleagues of various roles within the company.
Evaluate how effectively he or she communicates.
Use strategies that demonstrate turning down ideas not people.
Use strategies to set boundaries and say no
Provide feedback to a colleague to support his or her communication strategies.
This program is valid for 1.25 PDCs for the SHRM-CP® or SHRM-SCP®.

Communicating with Intention, Choosing a Medium

Have you ever considered all the ways you can communicate with another person? In today's electronically interconnected world, the choices are staggering. Of course, there are still low-tech ways, like talking face-to-face or over the telephone. Then there is email, text messaging, Skype, Twitter, Instagram, Facebook, Slack, and many, many more platforms that are being developed daily. It's important to remember that just because a medium is convenient (like email) or quick (such as text), doesn't necessarily mean that it's the best way to send your message.

The medium itself conveys meaning. For example, you wouldn't terminate someone by email, would you? That would show disrespect for the other person. And it's probably not necessary to go to someone's office and have a face-to-face chat about scheduling a meeting. Doing so might give the other person a sense they were being micromanaged. Selecting the appropriate medium for the message elevates your communication skills, and helps you to communicate with intention.

LEARNING OUTCOMES:

Each employee will:
List specific considerations for selecting email to communicate a message.
Describe scenarios where in-person, video, or phone conversations are the preferred way to communicate.
Define suitable uses for text and instant messaging (IM).
Discuss other uses of email in business correspondence.
Set group communication norms and expectations.
Select appropriate follow-up phrasing.
Create a checklist to follow before sending emails.
Explain when to classify an email as having "high importance."
Describe ways to personalize emails.
Building and Maintaining a Culture of Trust

"Just trust me." When was the last time you heard that and honestly felt comfortable? Trust is not something that you can just ask for, it's something that you need to earn. More importantly, it's very easy to lose. People form an ability to trust us based on their interpretations of our actions and not necessarily on our intentions. We need to give our employees, supervisors, and coworkers a reason to trust us by making a positive impact—through our actions and not just our intentions.

In this topic, you will discover the two essential elements of trust, how to earn it, and what to do if you lose it.

LEARNING OUTCOMES:

Each employee will:
Define trust and its impact on workplace productivity
Create a plan for building and maintaining trust as a leader and/or individual contributor
Increase their comfort level building relationships with employees across the organization
Reflect on current accessibility protocol
Establish an accessibility plan to meet the needs of stakeholders
Gain strategies to become a more active listener
Examine best practices for rebuilding trust if it is lost
Opening Communication, Breaking Down Silos

One of the biggest silos in an organization is in job functional areas. These silos are the spaces where all the members of a team are doing the same type of work, and as a result, they sometimes forget that other teams exist. Often, in larger companies, employees from one team don't interact with employees from another unless they need something.

These silos become even more distinct when a company is spread out on different floors or different sections of a building or when a portion of the company works remotely. In this topic, you will discover how to open communication and bridge silos in job functional areas.  You will also examine what collaboration is and how to move past this buzzword to actively share information across the organization.

LEARNING OUTCOMES:

Each employee will:
Reflect on current collaboration practices to identity what is and what is not working.
Communicate with colleagues of various roles and departments within the company.
Identify opportunities to enhance cross team conversations and decrease duplication of efforts.
Use strategies to incentive and appreciate collaboration across departments.
Identify tools to clearly communicate roles and responsibilities
Navigating the Multi-generational Workforce

The term generation goes beyond the classification of age. Generations are defined by technology, pivotal events, sociological trends, and economics during people's formative years. It is important to consider how people from various generations operate in the workforce, because their generation effects their viewpoints and guides their interactions with others.

In this topic, you will explore how to communicate and motivate colleagues from different generations while also considering everyone's individual differences.

LEARNING OUTCOMES:

Each employee will:
Reflect on national and global events of personal influence.
Compare national and global events of personal influence to those identified by colleagues.
Create a profile of his/her generation.
Identify motivators for people of their generation.
Define communication barriers for people of their generation.
Analyze common differences between generations;
Discuss preferred communication methods for people of different generations
Participate in reverse mentoring.
________________________________________________

Interested in a more targeted training specific to your team? I also offer sessions that do a deep dive on the following subjects:
We did an engagement survey: Now what? (Actually putting the data to work!)
Identifying and leveraging strengths as individuals, teams, and organizations
Inclusive change management: Preparing everyone on the org chart for what's next and what's new, and including them in the conversation along the way