On this episode of Humanize Your Workplace we are joined by Jen Brown.  Jen is the Founder of The Engaging Educator (EE), a women-owned and operated company dedicated to helping people find their unapologetic, authentic and best voice, communication style and self through improv-based education.  She also just released a new book Think on Your Feet: Tips and Tricks to Improve Your Impromptu Communication Skills on the Job. We chat about:
what improv is and how it can help you gain confidence in your interactions at work
how to incorporate play with your team
why it's important to role play new communication styles
To listen to this week's episode, head over to Google Podcasts, Spotify, Apple Podcasts, or Stitcher, check it out below.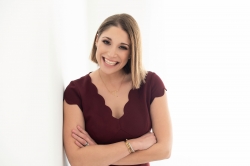 Latest posts by Alissa Carpenter
(see all)