On this week's episode of Humanize Your Workplace, we are joined by John Lim.
John Lim is an entrepreneur, TEDx speaker, and author. He has co-written two books 'Making Fake Star Trek' and 'Making More Fake Star Trek,' detailing his days as an actor and co-created an adult coloring book called 'Corporate Cliches.' John currently hosts two podcasts 'Moving Forward' and 'Making Fake Star Trek' based on his book series. You can learn out more at www.bemovingforward.com.
We chat about navigating your company's benefits, the importance of and how to start investing, diversifying your financial portfolio, and mistakes in investing.
To listen to this week's episode, head over to Google Podcasts, Spotify, Apple Podcasts, or Stitcher, check it out below.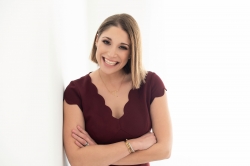 Latest posts by Alissa Carpenter
(see all)