On today's podcast, we interviewed Lynda Spiegel. Lynda is a former global Human Resources executive, and founder of Rising Star Resumes, a job search coaching and resume writing service.
We talked about all things recruiting, hiring, career pivots and resume writing.
You can download this episode from Itunes or Stitcher or listen below.  Check out our 7 top lessons learned from Lynda.
MILLENNIALS AND BABY BOOMERS IN THE WORKPLACE
Baby Boomers that are still in the workplace hear all the stereotypes about millennials (job hoppers, entitled, spoiled brats) and tend to judge 

Millennials assume that baby boomers don't understand technology and they are old skill thinkers
HOW TO ATTRACT MILLENNIAL TALENT
It's necessary to utilize social and mobile recruiting
Tip: LinkedIn and Twitter and huge. If you don't have the ability to communicate via social media- you're at a loss!  Over 89% say that their mobile devices are important in their job search.
THOUGHTS ON THE ATS (APPLICANT TRACKING SYSTEMS)
Don't use ATS systems!  Millennials and Gen Z are applying and searching for jobs using their phone and are not using the keywords to search.
Tip: If you're applying for a job that has an ATS system- find the balance between making the resume for humans and get your value proposition out there and then add keywords  (80% humans-20% keywords)
HOW TO NETWORK USING LINKEDIN
2nd degree connections are huge and can land you a new job.
Tip: Reach out to your 2nd degree connection to get a 1st degree connection.  It's a win/win since a lot of companies give financial incentive for recruiting employees
HOW TO CRAFT A WINNING RESUME
Enhance your resume and professional brand for your cohort. Millennials are typically the ones doing the hiring

Try storytelling (developed by Sarah Elkins of

Elkins Consulting

).  This works for both individuals and corporations
Tip: The human brain is wired to enjoy stories. Share stories that share insight of your soft skills and incorporate that into your resume
Resumes should be in 1st person and be the "unique person that is the answer to that person's pain point"

Show don't tell. Share exactly what you did and how you did it
HOW TO UPDATE YOUR RESUME AND EXPERIENCES FOR CAREER PIVOTS
It's the ability to learn that translates rather than the specific skill set
Tip: Demonstrate that you have the ability to learn a specific skill. If you're trying to go into a new role, you need to showcase specific instances that demonstrate your skills set.
Don't undervalue the experience within your company
Tip. Consider making a transition within the same company in a new area.  You have already shown your ability and can learn and grow there and then potentially move on. Stay put and change departments.
Tip: Volunteer your time within your organization or another organization for the area you want to grow.  Create the experience you want.  This is a great way to both gain experience and potentially land a job
HOW TO ANSWER "WHAT IS YOUR CURRENT/PREVIOUS SALARY?"
If you are ever asked a question that is illegal (this question is in a few states) answer : "To the best of my knowledge, this is not a question that is permissible to ask"
Tip: If it is illegal: not everyone who interviews knows the law and it is all about the delivery of your statement. If it is legal, say "I don't think we are ready to discuss that yet.  At this point, I think it is best for you to determine my value here." Again, it is all about the delivery of this message.
Tip: Never say that you're willing to take less.  Nobody believes that for a second
FYI: The reason why they are asking is because companies want to benchmark and give you 10% more.
SUGGESTED RESOURCES
Angellist– job site for start ups
Podcast: Play in new window | Download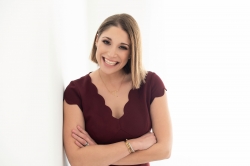 Latest posts by Alissa Carpenter
(see all)