On this episode of Millennial Playbook Podcast, we are joined by Jake Kelfer. He is a millennial entrepreneur and author of Elevate Beyond.  Jake helps people achieve their success through writing, and public/motivational speaking.  Motivational speaking has always been a passion for him as he loves to inspire people through the spoken word
You can download this episode from Stitcher or iTunes or listen below to hear all of Jake's advice.
Advice for Surviving in the "Real World"
Must work your way up in corporate world

Make sure organization's values align with your values – it should be a good fit on both ends

Need to build relationships and maintain/ nurture your relationships
What does success look like?
Jake believes everyone has their own definition of success

Find what is important to you, and identify that it can help you achieve success
In Person vs. Virtual Professional Relationships
Virtual relationships differ from in person, it is completely different, you don't get to fully understand the full body language or feel of a person

In person is way more valuable

Relationships are mutually beneficial between each other and must do deeper than just a like
Networking Tips
"It takes more time for people to get interested in you than it is to get interested in other people," Dale Carnegie

How to connect with people should be based off who your audience is and reach out to them and how it would be impactful to them

Networking is an opportunity to change your life

Show your vulnerability and how you can relate to who you are trying to network with

Be authentic in your outreach, ask to really get to know them not to ask for something for yourself
Podcast: Play in new window | Download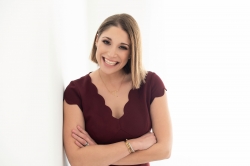 Latest posts by Alissa Carpenter
(see all)