On today's podcast, we interviewed Christina Merriweather. Christina is a higher education professional with over 10 years of experience in college recruitment and admissions. She also serves as a mentor and a career coach to 20-somethings in the New York City area and shares professional and personal growth advice on her blog at 20/30 Enterprises.
We talked about all things lateral and vertical moves, thinking outside the box with professional development, and how to speak with your supervisor about upcoming opportunities.
You can download this episode from Itunes or Stitcher or listen below.  Check out our 4 top lessons learned from Christina.
MILLENNIAL AND CAREER MOVES
Millennials tend to change career more than previous generation
FYI: This is due to Millennials wanting to be challenged, lack of job stability, easier to find jobs in other areas due to online resources
WHAT TO DO WHEN YOU DON'T FEEL CHALLENGED
Consider taking a vertical or lateral move to get your needs fulfilled as it might open up more options in another company

If you have a company that is large enough, consider moving to another department

Find out of the box ways to "flex your skills"

Share with your manager your strengths and how they relate to your organization. Suggest your value-add to other places and responsibilities within your position
Pro Tip: Show how your supervisor how you can innovate, add value to the team and utilize your best skills that have not been utilized
BRINGING UP A LATERAL MOVE TO YOUR SUPERVISOR
It's important to have a conversation with your supervisor so they can be your advocate for you. Think about the timing of this conversation and utilize your one-on-one to talk about your goals
Pro Tip: It shouldn't be a surprise to your supervisor if you are having these conversations early on and consistently communicate with your supervisor
Leverage the conversations with your supervisor.  Make a strong case and think about organizational priorities and how they can utilize your strengths and be an asset for this new team.
Pro Tip: Know why you want to job, what makes you happy and where you see yourself in that role that can push you and your organization forward
Be clear and transparent.  Make a succession plan for someone who can take your role as many managers are nervous to let good employees go
CREATING AN INCLUSIVE ENVIRONMENT FOR MILLENNIALS IN AN ORGANIZATION
Seek feedback from your staff on every level consistently.  It doesn't have to come top-down.
Pro Tip: Check the pulse, do a needs assessment, and see what your organization is lacking. Ask the employees on the ground what they want for personal and professional environment.
Turnover is not great for business. Build a culture of getting feedback to help the organization move forward
SUGGESTED RESOURCES
4 Surprising Ways Having a Lateral Move Can Benefit Your Career
The Benefits of Horizontal Vs. Vertical Growth
Giving Feedback to Your Boss-Like a Boss
Podcast: Play in new window | Download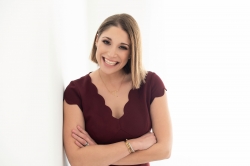 Latest posts by Alissa Carpenter
(see all)