On today's podcast, we interviewed Celia Cameron.  Celia is the VP of Marketing and Communications at Cabrini University.
With multiple generations in the workplace we discussed some key differences, how to stand out to your supervisor, what to cover during performance reviews and how to strategically climb the ladder within your organization.
You can download this episode from Itunes or Stitcher or listen below.  Check out our 5 top lessons learned from Celia.
GENERATIONAL DIFFERENCES IN THE WORKPLACE
While there are multiple generations in the workplace, it's important to think about people as individuals and meet them where they are.
Pro Tip: Schedule an hour meeting to get to know each employee and uncover their professional goals and hobbies.  There is no specific agenda and each employee can discuss what they want.  
Millennials are more open to the conversation where older generations would prefer an agenda.

When Celia's employees ask for time off or to leave early she has also noticed a trend.  While they are both respectful and ask for the time; Millennials tend to assume it will be granted while older generations are making a genuine request.
MANAGING UP
Managing up is paying attention to your supervisor, identifying his/her strengths and weaknesses as best as you can and then working to fill/complement those strengths and weaknesses.  
Pro Tip: Go up to your supervisor and ask what you can do and if there are any projects on the horizon that you can help with.
FEEDBACK AND ANNUAL REVIEWS
As a newer manager, Celia found the podcast, Manager Tools useful in understanding how to give both positive and negative feedback.  
Give just in time feedback and not waiting until bi-annual or annual reviews.  As hard as it is to give constructive criticism, she finds value in knowing that it is not about criticizing the person and about helping them improve.
GIVING FEEDBACK TO YOUR MANAGER
It's rare to get feedback from her employees even though she promotes an environment for it.  The times she has received it, while it was hard to hear it has helped her become a better manager and stronger in her role.
Pro Tip: Be open to giving your manager constructive feedback that will help you both grow professionally
GETTING REALISTIC TIMELINES FOR CLIMBING THE
LADDER
Look at your company to see if there are direct lines to higher positions.  Is there an opportunity to climb the ladder that has already been defined?
Pro Tip: 6 months is the sweet spot to having conversations about career trajectory with your supervisor and keeping an open conversation
Suggested Resources
How to Give Your Boss Feedback
4 Ways To Impress Your Boss By Creating Your Own Performance Review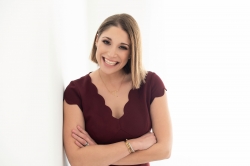 Latest posts by Alissa Carpenter
(see all)