On today's podcast, we interviewed Kaytie Zimmerman founder of Optimistic Millennial, a blog geared towards equipping young adults to overcome financial and career related obstacles to adulthood. She started writing about millennial money and career topics when she and her husband finished paying off $71,000 of student loans in four years and realized they reached the finish line alone. She's navigated the corporate world as a millennial woman and advises others on how to do the same. You can find Kaytie on Twitter at @KaytieZimms.
We talked about all things student debt, salary and compensation packages.
You can download this episode from Itunes or Stitcher or listen below.  Check out our 6 top lessons learned from Kaytie.
MILLENNIALS AND STUDENT DEBT AND ITS IMPACT ON JOB CHOICE
The average student debt right now is $37,000 for Americans

Some Millennials will take the first decent paying job they're offered because on top of student loan payments – they still have rent and regular expenses.

Other Millennials get creative with their side hustles and find a job that might pay less
MILLENNIALS AND SIDE HUSTLES
Side hustles are something that is very much a Millennial thing in that they're not something previous generations had; previous generations may have had a part time job on the side. Millennials are creating side hustles to be a source of income in addition to their primary work, or in some cases, for their primary work.

There is a desire to follow their passion and a lot of times, their full time job does not line up with that. Some are lucky to pursue their passion with their full time job, whereas most others when they're first entering the workforce will not find their dream job right out of college.
KAYTIE'S TIPS TO PAY OFF STUDENT LOAN DEBT
The first step is to figure out how much you owe. Once you have that, it's all about creating a budget and sticking to it.

The bottom line is that there are no foolproof steps to paying off debt. There's two ways to do it; make more and spend less.
Pro Tip: Take the time to find out what you owe so you can actually create the budget and establish your priorities
Pro Tip: Understand that your lifestyle may change when making larger payments and find out what works best for you (which isn't always fun). It's good to have fun but we also need to make sacrifices so we aren't always living with debt
TRENDS IN COMPANY PROGRAMMING TO RETAIN MILLENNIAL TALENT
Student loan repayment programs.

Flexible schedules with unlimited time off

Paid volunteer time off

Remote work

Relocation to wherever they want, pay for relocation costs, can work remotely and same salary even if you were in a higher cost of living area

Puppy parental leave
KAYTIE'S TIPS TO RETAIN MILLENNIAL TALENT
Millennials would take a job for less money for something they love. Salary is important but they don't have to be top dollar if they're offering other things (unlimited time off, flexible work, volunteer time off, etc)

Try as best as you can to have your Millennial employees work the way they prefer. Understanding that not everyone functions best with an 9-5 job sitting at their desk.
Pro Tip: Think remote, off hours, etc. Talk with your employees about what they need and how you can help them do their best work
Finding a financial advisor (independent from the company) to give overall financial advice in a one-on-one session (mortgage, 401k, loan repayment, investing)
Provide opportunities to travel and adjust hours to incorporate their side hustles
Pro Tip: A great way for a Millennial to LEAVE your company is to not respect and honor their side hustles
Provide clear opportunities for career growth. Millennials want to know the next 5 rungs on the ladder, how to get there, and know they have sponsors to help them achieve those steps
Look at Millennials from a positive perspective.  We are all trying to accomplish the same goal regardless of generation
Pro Tip: Foster a positive environment that says that we are trying to accomplish something great and what we all have in common
SUGGESTED RESOURCES
Secrets to Paying Down $71,000 of Student Loans
Making Sense of Cents: A Finance Blog
Podcast: Play in new window | Download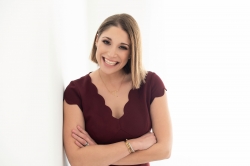 Latest posts by Alissa Carpenter
(see all)