On this week's episode of Humanize Your Workplace, we are joined by Angelo G. Spenillo.
Angelo G. Spenillo is a husband, stepdad, metalhead, in-house attorney, and author of "I Am a Professional Metalhead." Angelo grew up in New Jersey where he began a lifelong obsession with heavy metal music – one that influenced his entire legal career.
In 2000, Angelo began his career as an attorney with the U.S. Department of Justice. He left the practice of law several times to work in sales, marketing, account management, and product development, until he finally found his true calling working as a lawyer for software companies. Since then, he has built legal departments for several rapidly growing companies and finally found his dream career – unless, Sevendust has a need for a third guitar player in which case the law thing would be a great fall back gig.
Angelo earned his undergraduate degree from Union College and his law degree from Georgetown. He is currently in-house counsel at a fast-growing software company.
He resides in Savage, Minnesota with his wife Carol, two stepkids, and one guitar less than would be ideal.
We chat about What to do if you find yourself in a job you do not enjoy. How Angelo's passion for music helped him connect with his co-workers, employees, and clients. Lessons learned from loving music
To listen to this week's episode, head over to Google Podcasts, Spotify, Apple Podcasts, or Stitcher, check it out below.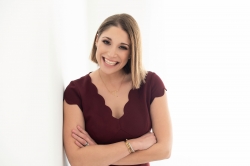 Latest posts by Alissa Carpenter
(see all)