On this week's episode of Humanize Your Workplace, we are joined by Emily Morgan.
Emily Morgan is the Founder and CEO of Delegate Solutions, a premium Virtual Assistance Firm. She and her team at Delegate Solutions help entrepreneurial leaders stay productive without the hassles of HR. Their unique approach to support means that as you grow, you'll never need to find, manage or train an administrative support resource again!
Emily Morgan and her remote team help leaders and their teams to strategically clear their plates so they can focus on higher impact activities. She is the founder of Delegate Solutions, a Strategic Support(TM) firm and the designer of the "Delegate Method" which helps leaders identify areas of their work they can delegate or automate for maximum efficiency. She's helped hundreds of busy entrepreneurial leaders master delegation and design systems to support and grow their awesome businesses! In 2019, her team cleared over 30,000 hours of tasks off the plates of overwhelmed business owners.
Emily speaks nationally on the topic of virtual business, delegation, remote workforces and flexwork culture. She's the Philly Chamber of Commerce Small Business Person of the Year and has been featured in CNBC, Forbes, Inc., HuffPo, NY Times and NBC News. She is a Goldman Sachs 10kSB alumni and is a graduate of the University of Pennsylvania. Delegate Solutions is WBE certified and was recently ranked among the top 100 fastest-growing companies in Philly!
We chat about:
Talent acquisition for virtual jobs
Tips for being a cohesive virtual team
How to identify if working remotely works for you (even after the current pandemic ends)
To listen to this week's episode, head over to Google Podcasts, Spotify, Apple Podcasts, or Stitcher, check it out below.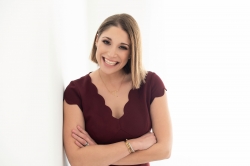 Latest posts by Alissa Carpenter
(see all)