On this week's episode of Humanize Your Workplace, we are joined by Laurie Olague.
With over 15 years of experience in the nonprofit sector as a volunteer, intern, director, and advisory board member, Laurie has built a reputation as the epitome of a strategic partner who brings people together to achieve results that drive organizational growth. Her biggest passion is helping organizations be better at doing good. Her specialties include program development and evaluation, stakeholder and employee engagement, operations, and events (both virtual and in-person). When it comes to employee and stakeholder engagement, Laurie's approach centers around stakeholder feedback, compassion, development, and flexibility.
As someone who holds a Master of Arts degree in Nonprofit Management from Antioch University, Los Angeles, Laurie has spent years studying the mechanics of successful organizations. Her experience includes being a leader at some of Los Angeles' top nonprofits, including Chrysalis where she currently serves as the Volunteer and Program Director, overseeing a team of 160 volunteers across four locations throughout Southern California. She has developed curriculum for and successfully started multiple new programs, launched new social enterprise business lines and is well versed in the area of corporate social responsibility having led activations for Fortune 500 companies.
Laurie's core values are integrity, innovation, inclusion, and initiative. She believes that true and lasting social change lives at the intersection of collaboration, innovation, and cross-sector action. She lives in Los Angeles with her husband, Rob and their son, Robert Renegade ("Ren"). When Laurie isn't helping organizations be better at doing good, she can be found cooking, (re)reading Brene Brown's books, listening to her favorite podcasts, and exploring nature with her family.
We chat about
The difference between satisfied employees and engaged employees
Creating space for engagement
Recognizing the need to re-engage in your work
How leaders and staff members can help each other engage with their work more
To listen to this week's episode, head over to Google Podcasts, Spotify, Apple Podcasts, Stitcher, or check it out below.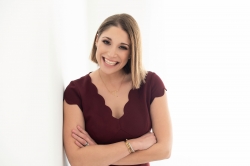 Latest posts by Alissa Carpenter
(see all)