On this week's episode of Humanize Your Workplace, we are joined by Jennifer Sarrett.
Jen believes that inequity can be eradicated by the recognition of our shared humanity. She has spent the past 12 years researching and studying the concepts behind this work, the histories and perspectives of groups of difference, and ways to leverage her privilege and perspective for the good of everyone. From the classroom to training seminars, Jen has provided guidance in the concepts behind discrimination, privilege, and inequity to college students, medical students, business leaders, and the community. Her PhD in Interdisciplinary Studies, which focused on Disability Studies, Anthropology, and History, has prepared her to guide you and your organization to understand and utilize the concepts behind inclusion so that, together, you can work towards sustainable, ethical practices to ensure equity for all. You can find Jen on Twitter and LinkedIn.
We chat about:
Neurodiversity, disability, and ablelism
Providing resources at work
How to be a good disabilities ally
To listen to this week's episode, head over to Google Podcasts, Spotify, Apple Podcasts, Stitcher, or check it out below.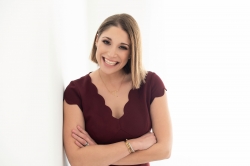 Latest posts by Alissa Carpenter
(see all)