This week on the podcast, we are joined by Brandon Laws.
Brandon is the Senior Director of Marketing & Product at Xenium HR. He joined the team in October 2008. In over 12 years with Xenium, he has held the positions of Operations Administrator, Sales & Marketing Coordinator, Senior Marketing Specialist & Business Analyst, Marketing Manager, Senior Marketing Manager, and Marketing Director.
Brandon spearheads all marketing efforts with a focus on building the Xenium brand, lead generation, and overseeing product to contribute to Xenium's growth. Brandon is the host of the popular HR and Leadership podcast, Transform Your Workplace, which has 540k downloads to date.
Brandon is heavily involved in other company initiatives as well. He has contributed to the Xenium Culture Integration & Team Enhancement (XCITE) committee for 11 years and has sat on the Stoller Group wellness committee for four years.
Brandon's focus on personal growth is central to all he does and leads to his continual efforts to become a better person and a greater asset to the people around him.
Brandon graduated from Western Oregon University with a Bachelor of Science Degree in Business Management in 2008.
Brandon enjoys staying productive outside the office, reading 40-60 books a year on business, marketing, economics, politics, and leadership; he occasionally likes to write on similar subjects. He is also an avid fan of the Portland Trail Blazers and regularly attends games at the Moda Center in Portland, Oregon. Brandon and his wife, Angela, enjoy spending time with each other at their home in Newberg with their son, Parker, daughter, Paisley, cats, and dog. You can find Brandon on LinkedIn, Twitter, or Instagram.
We chat about:
Marketing yourself to take on new roles
Internal workplace book clubs
Strategies to determine what roles to take within the company
To listen to this week's episode, head over to Google Podcasts, Spotify, Apple Podcasts, or Stitcher, or check it out below: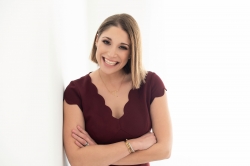 Latest posts by Alissa Carpenter
(see all)