On this week's episode of Humanize Your Workplace, we are joined by Dr. Gelb Tsipursky.
An internationally-renowned thought leader known as the Disaster Avoidance Expert, Dr. Gleb on a mission to protect leaders from dangerous judgment errors known as cognitive biases, which devastate bottom lines and bring down high-flying careers. His expertise and passion is developing the most effective and profitable risk management and decision-making strategies to empower leaders to avoid business disasters, maximize their bottom lines, and help their careers flourish. His proprietary methodology combines my pragmatic business experience with cutting-edge behavioral economics and cognitive neuroscience research.
The bestselling author of several books, he is most well-known for my national bestseller, Never Go With Your Gut: How Pioneering Leaders Make the Best Decisions and Avoid Business Disasters (Career Press, 2019). It's the first book to focus on cognitive biases in business leadership and reveal how leaders can overcome these dangerous judgment errors effectively. He also wrote The Blindspots Between Us: How to Overcome Unconscious Cognitive Bias and Build Better Relationships (New Harbinger, 2020), the first book to focus on cognitive biases in professional and personal relationships and illustrate how we can defeat these dangerous judgment errors in our relationships. His new book is Resilience: Adapt and Plan for the New Abnormal of the COVID-19 Coronavirus Pandemic (Changemakers Books, 2020). It helps organizations and individuals navigate successfully the major disruption of the COVID-19 coronavirus pandemic and succeed in the post-pandemic world.
We chat about:
Defining cognitive biases
How cognitive biases show up in the workplace
What practical strategies to bring connectiveness
To listen to this week's episode, head over to Google Podcasts, Spotify, Apple Podcasts, Stitcher, or check it out below: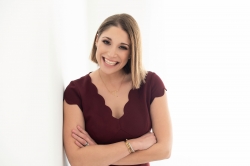 Latest posts by Alissa Carpenter
(see all)