This week on Humanize Your Workplace, we're joined by Alexa Carlin.
Alexa Carlin is the Founder & CEO of the Women Empower X and a nationally-renowned Professional Speaker. Inspired by her own entrepreneurial pursuits, Alexa founded WEX with the mission to create a diverse and inclusive community of women entrepreneurs focused on collaboration over competition.
Since 2016, WEX has impacted over 20,000 women at their global events and through their online membership community, The WEX Inner Circle. Alexa's mission with WEX is simple: help more women build profitable and impactful businesses they love.
After a near-death experience left Alexa with only a 1% chance to live when she was just 21 years old, and later followed with ongoing chronic health issues, Alexa has been focused on turning this obstacle into an opportunity. Alexa was featured on the cover of Meetings & Conventions Magazine as 1 of 15 "Young Millennial Go-Getters To Watch" and named one of the "Most Powerful Women In Fort Lauderdale" by Gold Coast's Fort Lauderdale Daily.
She has also been featured on Cheddar TV, FOX, ABC, CBS, OWN and in Entrepreneur, Glamour Magazine, Mashable, and TEDx among others. Alexa's personal mission is to make a difference in at least one person's life every day. You can find Alexa on Instagram, LinkedIn, TikTok, YouTube, and Facebook.
We talk about
Building community virtually
Building community vs building a following
Building an inclusive, diverse community
To listen to this week's episode, head over to Google Podcasts, Spotify, Apple Podcasts, Stitcher, or check it out below: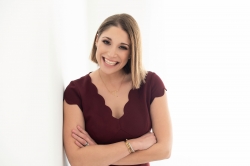 Latest posts by Alissa Carpenter
(see all)