On this week's episode of Humanize Your Workplace, we are joined by Kryss Shane.Named by The New York Times and many national and international platforms as the go-to Leading LGBT Expert, Kryss Shane, MS, MSW, LSW, LMSW (she/her) has 25+ years of experience guiding the world's top leaders in business, education, and community via individual, small group, and full-staff trainings. She is known for making each organization's specific Diversity and Inclusion needs become more manageable, approachable, and actionable in financially realistic ways. This includes physical spaces, hiring practices, policies/procedures, and more. In addition to being known for her work in the LGBT+ field, she is almost equally known for her lifelong love of tie dye (making her easy to spot in a crowd or at an event) and her never-ending adoration of NYC pizza. You can find her book The Educator's Guide to LGBT+ Inclusionhere. We chat about:
Making school curriculum move inclusive
Language people should know and use
Asking about pronouns
How to recognize and use your privilege well
To listen to this week's episode, head over to Google Podcasts, Spotify, Apple Podcasts, or Stitcher, or check it out below.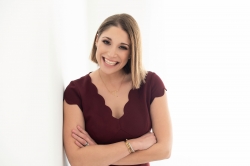 Latest posts by Alissa Carpenter
(see all)