The end of the year is approaching and so are annual reviews. These in-depth conversations provide millennials with the space to seek feedback and discuss their future within the organization. It is also the opportunity to reflect on the past year, share your value, and ask for the support you need to advance in your career. This is also the time to create a space to seek the constructive feedback you have been craving.
With that said, you need to play a part in the conversation and not let it be solely driven by your supervisor. You have the opportunity to discuss your development and focus on areas that are important to you. As you prepare for your review, here are seven areas to focus on.
Successes
Reflect on your successes over the past year.  If you're stuck, look through your email and find all the of 'thank you's' and appreciations from coworkers, clients and your supervisor. Did you decrease time and increase efficiency on a project? Start a new initiative? Bring on new clients? Kristen Topping, SHRM-SCP, Senior Consultant, suggests to "Find out the bench marks of success, both for your role and for the company. It's important to align your priorities with company goals and then identify ways to quantify your achievement."
Your supervisor may not be aware of everything you do daily and it's essential to be able to provide notable examples of your successes. Topping continues, "Make sure that you are personally tracking your contributions and wins on an on-going basis, it can be easy to forget during an annual review or when you're on the spot."  This is the time to put things on the table that might otherwise go unnoticed, but it's also important to share your wins. "Don't be afraid to do a little bragging, but do remember to share credit where credit is due and be concise" said Topping.
Last Year's Goals
Look at your previous reviews and see what areas were suggested to work on.  Did you improve? If so, how? If not, why? Be prepared to discuss how you worked on your goals, what you improved on and what has changed.  Use specific examples during your conversation. If you haven't met last year's goals, discuss what support you need to make progress and what small steps you've made towards them.
Feedback
According to Gallup, only 15% of millennials ask for feedback and one of three "strongly agrees they've told their manager the one thing they need most to get their work done and why." Annual reviews are the perfect space to not only ask for feedback but to also have an open conversation with your supervisor about what you need from them to do your job better. Don't be afraid to ask clarifying questions so you truly understand what you need to work on and to be open to the suggestions made by your supervisor.
Support
Think about your job over the past year and what barriers you faced. What could be done to overcome these barriers? Is it more communication with your supervisor? Clearer data? Be specific about exactly what you need from your supervisor and your organization to perform your job functions. Frame the conversation to highlight the benefit to your company.
Areas of Interest
This is the time when you have your supervisor's undivided attention and can share more about yourself personally and professionally. There may be new initiatives on the table that need to be staffed or an overseas client and they need a company representative to host a meeting. According to Piper Brown, HR Manager, annual reviews are a great time to continue to "Show initiative by offering to help on a new project that expands your role organically." Take this opportunity to share what future projects and teams you would be interested in working on.
Professional Development
Look at the year ahead and identify what skills and experiences you want to gain. Are there any upcoming trainings or events you want to attend? A class you want to take?  Brown says "Use the company to gain new skills, and education. Most companies will pay for relevant training seminars throughout the year, offer education assistance programs for continuing education and/or certifications." Your company might even have left over budget for this year that you can take advantage of by signing up for trainings in advance.
Future Plans
According to a recent study, 17% of millennials expect an annual promotion and 40% want to serve in a leadership capacity. Take this opportunity to speak about your future within the company. Where do they see you in the next few months? Are there any new positions for you to apply? What areas can you improve on to set yourself up to be considered for a promotion?
According to Nadine Leonard, Managing Director & Executive Planning Director at Heartbeat, "own your career path — even the most well-intentioned managers can fall behind on how to advance their team members." Leonard continues, "Think about what you want out of your longer-term career path (doesn't have to be across your lifetime, just beyond the next promotion) and ask to plan against that with your manager. This collaboration will create collective buy-in and create natural milestones/check-in points — setting you up to make the big promotion ask when the time is right."
Take the opportunity to do your homework before you sit down with your boss. The more prepared you are for this conversation and what you're looking for from your organization and supervisor, the more likely you are to set yourself up for a promotion and a year of gaining valuable skills. Although an annual review is a great place for conversation, make sure it's not the only time you're speaking with your supervisor. Work with your boss to create a more regular schedule for feedback and check ins related to your professional growth.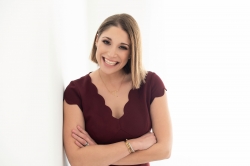 Latest posts by Alissa Carpenter
(see all)