Millennials are interested in becoming organizational leaders, but sometimes get a bad reputation and labeled "entitled" for their eagerness to climb the ladder early on in their careers.  Being newer in the workforce, it can be hard to determine what managers are looking for when promoting from within.
Without the knowledge of managements' needs and the ability to demonstrate it, millennials can be left feeling discouraged and potentially overlooked when it comes time for promotions. There are four essential qualities for millennials to understand, develop, and perform to get noticed and be next in line to move up in their company.
Interpersonal Skills
Being the person who others want to work with and request for their team is crucial. No one wants to work with someone who is always challenging authority and isn't a team player.  Much of this comes down to communication skills and the ability to express your opinion while respecting others. According to Lisa Cummings, CEO of Lead Through Strengths, "There's a big difference in the reception of 'that will never work' and 'I like that it is a customer focused solution. Let's get all of the ideas on the table and as we narrow down we can look at the pros and cons of each.' " Cummings continues, "Both of those comments give you the chance to express the risk in the idea. The first one is viewed as a difficult person, while the second one is viewed as a great collaborator."
You want to not only be the person that people can trust to come up with a solution, but one that listens and communicates everyone's input before deciding.  Organizations are made up of many people with varying opinions and an essential quality is being the one who can build relationships and communicate clearly while providing value to its employees and the organization.  Even if you don't like the idea, the person who gave it still deserves to be respected for taking the time to put it out there.
Resiliency
Organizational change occurs at every level and can affect all members of the company. When demonstrating your ability to be a leader, it's essential to display grit and resilience. Managers are looking for people who do not shy away from challenges, and do what it takes to move past them.  According to Danielle Pizza, Digital AdOps Leader, "In order to navigate change successfully, they need people who are personally resilient and can effectively lead a team through transitions."
As millennials who might be newer in the workforce, it's even more important to show both personal and professional resilience. Demonstrating the ability to overcome difficult situations and helping other members of your team goes a long way.  Being a leader is difficult and filled with unprecedented challenges, you want to be the person that people rely on during these times for solutions and comfort.
Openness to Feedback
According to Gallup, only 15% of millennials ask for feedback from their supervisor despite their interest in receiving it. Part of being a good leader, is having the ability to learn, grow and understand where you need professional development. Without areas to focus on, it will take more time and be less productive to climb the ladder. It is essential to connect with your supervisor and others who oversee your work to see where you can improve and what you excel at. We may think we know what we are good at or need improvement in but getting insights from your supervisor may bring up additional areas to focus on. Knowing both areas will give you leverage as you seek a promotion.
You should find opportunities for brief conversations immediately after a project is complete, to review the results. Drive these sessions around what you did well in, what can be improved upon, and what support you will need in the future. Your manager will not only see you as proactive, but someone who is willing to learn and make adjustment towards future success.
Ability to Follow Through
The word "lazy" is often used to describe millennials work ethic, but if that is what you bring to the workplace, you can count out a promotion. Managers want to see your ability to not only start a project, but to follow through and ask questions if you're stuck. According to Pizza, "Someone who can quickly, effectively and efficiently get things done is critical. An individual who can identify a problem, present a solution and actually solve it is the gold standard."
You want to be the person your manager can count on to finish what you start without constant check-ins. If you do have questions, you want to first seek out the answers by doing research and then ask for support.  While managers would rather you ask them questions then miss deadlines, make sure you put in the effort to come up with a potential solution.
Demonstrating your ability to work independently and seek help when needed will let your manager focus on what they need to and give them the confidence to know they can rely on you to come through. Understanding the organization's value and what managers want is the key to earning a promotion. You want to demonstrate your eagerness to learn, use effective interpersonal skills, follow through on projects, and overcome difficult situations. By becoming the person people rely on for feedback, support, and handling trying times, you have set yourself up as someone who is crucial to the organizations' success and ready to take on a leadership role.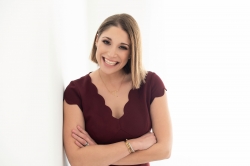 Latest posts by Alissa Carpenter
(see all)