This post is sponsored by Lexington Law.
As a small business owner, I really struggled to figure out what credit card made sense for my business.  There were so many options to choose from with perks from travel to cash back.  And while some looked appealing on the surface, they did not necessarily fit my needs.  Or came with fees that did not work with my budget.  I was quickly overwhelmed and was nervous to make the wrong decision.
If you're thinking about opening a small business card, it's important to spend the time and research the best options for you.  And to understand what it means (and doesn't mean) to have this type of card.  (Hint: it can impact your personal credit score!)  There are so many myths out there about personal and business cards and you don't want to fall into a trap.
Let's start out by answering some general questions about small business cards.  Then I will provide specific details on what to look for before signing on that dotted line and then what to do if you get denied.
GENERAL SMALL BUSINESS CREDIT CARD QUESTIONS:

Who is eligible for a small business card?
If you have a small business, you may be eligible to open up a card (more specific information about credit score below).  This means if you have a side hustle, part time business, or a formal LLC this option may be for you.  You also don't need a business history as you will most likely be personally liable.
What is the difference between a corporate card and a small business credit card?
According to Nerd Wallet, "the account holder is personally responsible for the debt on the card and can be required to pay it in the event the business fails. This makes them different from corporate cards, where only the company is liable for the debt."  In other words, if your business doesn't work out… you still owe the money!
What are some of the required information on the application?
Business name
Tax ID number (EIN) or the owner's social security number
Annual business revenue
Individual guaranteeing of debt (if your business cannot cover the debt, you agree to personally cover the costs)
Business industry
How long you've been in business
Legal structure (i.e LLC, Corp, etc.)
Can small business credit cards be used for personal use since they are asking for personal information?
No!  Small business cards should only be used for business expenses.
Can having a small business credit card impact my credit score?
When you open the card, they usually run a credit report as they want to make sure you (the business owner) can pay back what you borrow.  After that, Nerd Wallet suggests that small business cards generally fall into two categories:
some report your account payment history only to commercial credit bureaus
report to both consumer and commercial bureaus
Now that you have the basics on what these credit cards are for, lets go over some of the things you should investigate when comparing cards.
FINDING A SMALL BUSINESS CARD THAT FITS YOUR NEEDS:
Rewards
Many small business credit cards offer points or cash back.  Depending on what type of business you own, one might be more appealing than the other.  Cash back can be a flat rate for all purchases or higher depending on the category (travel, gas, dining).
To figure out what makes sense for your business, take a look at your expenses for the last year and see where most of your spending came from.  If you typically fly to speak at conferences, a card offering airline points might be appealing.  And if you drive to most of your clients, the gas perk may align better for you.  Or if you find yourself taking clients to restaurants, a card with a higher cash back on restaurant spending may be even better.  Take the time to align the rewards program with your business to avoid missed opportunities.
Annual fee
Some cards come with an annual fee that might be waved for the first year.  Usually cards with a fee can offer higher benefits and perks and range from $95-$595 annually (most are in the $100 range).  But that doesn't mean these perks align with your business.  If you pay a fee and your bonus is higher cash back for restaurants and this isn't something you need or use, it doesn't make sense.   And if you're just starting out and don't have a gauge for what you're going to spend or in what areas, it may make sense to hold off this type of card.
For now, look at how much money you will need to spend before the rewards can make up for the annual fee. For example, if you earn 3x the points for internet, phone, and shipping expenses and your fee is $95 a year, how much would you need to spend in those categories to make the fee worth it?  If it is much more than you were planning to spend, it's probably not a good fit.
Foreign transaction fee
If you travel internationally for your business, you want to take this into account.  A foreign transaction fee can be really costly, especially if you travel often and there is more than one card holder in your business.
APR
Just like personal cards, small business cards can offer a 0% APR for the first year.  This may be a good option if you're looking to make a larger purchase like a computer.  But, if you don't have the funds to pay it off in a year, that interest rate will skyrocket and can destroy your credit if it goes unpaid.
Be aware of the APR not only for the first year, but when the promotional period ends!  That laptop you got on sale can quickly become a costly expense.
Bonus
Some cards offer bonuses for signing up.  They typically have a minimum spending amount within the first few months of getting the card.  And those bonuses can pay for the fee in rewards alone.  For example, if you spend $5,000 in the first three months you might earn $1,000 worth of travel points for a card with a $95 fee.
If you find a card with a great bonus, read all the fine print to make sure you will fit the criteria and actually earn it without overspending!
Credit limit
Something important to note is that small business cards typically come with a higher limit than personal cards.  While this can be exciting to see "all the money" you're able to use, it can quickly lead you to spending more than you actually have.  At the end of the day, either your business or you will personally owe the money.  It's not free to spend on your business as you see fit.  And if you do so, you will find yourself into some serious credit card debt.
Minimum credit
Many cards require specific credit scores in order to qualify.  The ones with the most perks are looking for individuals with excellent ratings.  Cards in the average category may have some perks (1% back) but also have really high interest rates of upwards of 25%
According to an article on Lexington Law's blog, here are the score ranges:
Exceptional: 800-850
Good: 670-799
Fair: 580-669
Poor: 300-579
WHAT TO DO IF YOU GET DENIED FOR A SMALL BUSINESS CREDIT CARD:
Understand why you got denied
According to The Fair Credit Reporting Act, card issuers have to notify you after denying your application.  They will let you know what bureau provided the report and what score was used to make the decision.
If you're unsure about your credit report, here's a post on Lexington Law's blog for suggestions on how to check for free.
Apply for an alternative card
If you applied for a card that is looking for scores in the "good" range and you fall into the "fair" range, you most likely got denied.  If you are still set on opening a card, identify a card that aligns with where you are now and work towards improving your score.
Get support to increase your credit score
If you need a card in the immediate future, you can take the alternative card route but that is not something you should settle with.  Having a fair or poor score will not only impact your ability to get a card with more perks, but so much more down the line.
Trying to increase your score on your own can be confusing and overwhelming, especially if you don't know what you're looking for.  By working with the professionals at Lexington Law, you will get a comprehensive credit score improvement analysis.  You will also have a better understanding of where you stand and what you need to do to restore your score and profile.
Opening a small business credit card is not something to take lightly.  It requires not only understanding what cards align with your business, but also understanding your credit score and credit report.  Before jumping in, take the time to do your research.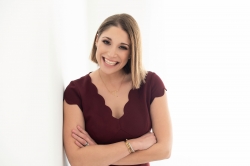 TEDx Speaker, Author, Facilitator
at
Everything's Not OK and That's OK
Alissa Carpenter is a multigenerational workplace expert, owner of Everything's Not Ok and That's OK and host of Humanize Your Workplace podcast.
She provides training, consulting, and speaking services to organizations all over the world. She has an MEd in Social and Comparative Analysis in Education from the University of Pittsburgh and is a Gallup-Certified Strengths Coach. Her work helps to bridge communication gaps across generations, job functions, and geographies, and she has worked with organizations ranging from non-profits to multi-billion-dollar enterprises. She has delivered a TEDx talk on authentic workplace communication, and has been featured in media outlets including Forbes, ABC, FOX, and CBS. Her book, Humanize Your Workplace (Career Press), is set to release next year.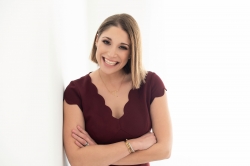 Latest posts by Alissa Carpenter (see all)