"Since they can't read your mind you better open your mouth."- Mel Robbins
On this week's episode of Humanize Your Workplace we chat about the importance of speaking up at work.  As much as we might believe people understand what we're thinking, it's not always the case.  I share how a conversation with my brother about baby toys led to me to start thinking differently about what we see and hear.  And how we need to make an active effort to verbalize our opinions, thoughts and concerns in a productive way.  
Weekly Challenge:
Think about some of the things that are coming up on your plate.

What are you holding back from having a conversation?
What are you hoping the emotion or the action that so many takes based on what you're not saying? How can you verbalize that?
How can you express concern or say thank you to someone?

Verbalize what you're feeling, verbalize those emotions, verbalize those questions because we're not going to be able to make a change.
To listen to this week's episode, head over to Google Podcasts, Spotify, Apple Podcasts, or Stitcher, check it out below.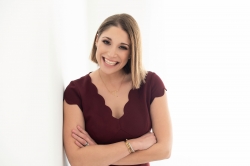 Latest posts by Alissa Carpenter
(see all)