On this episode of Humanize Your Workplace, we talk about how to get a conversation started at work.  It can be tricky (and scary) to get to know people, especially when you don't think you have anything in common.  We break down ways that an in-person and virtual workforce can break down the barriers. (Hint: you may already be doing it three times a day).
This week try:
Talk to one person who you haven't had a conversation with before
Explore virtual ways to bring your team together
Look for clues on someone's life outside of work
To listen to this week's episode, head over to Google Podcasts, Spotify, Apple Podcasts, or Stitcher, check it out below.
What are some questions to work through that will help build better work relationships?
How can you help and support the people you work with?
Who can you partner with?
How can you be a better collaborator?
What value do you bring? 
What are some tricks to get to know the people you work with?
I really think food can help kind of bring that together. Everybody needs to eat lunch, likes a good caffeine fix or wants a quick afternoon snack.  Asking someone to grab coffee, go out to lunch or to sit in the conference room to eat can go a long way. Candy on your desk also entices people to come in and start a conversation.
You can also look for clues. On people's desks you might see artwork, you might see pictures of children and you might see pictures of dogs, you might see a beautiful trees or flowers or how they decorated their office with paintings. I use those as kind of context clues and then ask a question about it. So, if I'm trying to take to know a colleague, I try to find a commonality. "My family and I are thinking about having a dog is how old is this dog and tell me a little bit about its temperament?"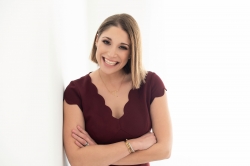 Latest posts by Alissa Carpenter
(see all)