This post is sponsored by Lexington Law.
According to a recent study conducted by Lexington Law, over two thirds of Americans would not move even if it meant they could save money or pay off debt.  There were a lot of factors that swayed this decision which included:
Family (27%)
Hassle of moving (25%)
Work (22%)
Already moved to pay off debt (13%)
School (7%)
Friends (6%)
This data brings up so many interesting points, and one of them being that there are many people that would rather be in debt than inconvenienced by moving.  And that we may still feel tied down by the physical location of our jobs.
Let me start off by saying that I am by no means passing any judgement.  My parents still live in the same house I grew up in and I live only a few miles down the road.  I am also really close to my family and loathed the whole moving process for both our first and second home.  So, picking up everything and relocating my family (husband and two kids) would be a long and hard decision to make.
And when we're faced with financial struggles (or any struggle), it can be hard to see the light at the end of the tunnel.  That thing or action that we can or need to take to better our situation.  To help you think more about moving as a possibility to save money and pay off debts, I am going to a few things to consider.
Student Loan Repayment
Over 44 million Americans have at least one student loan on file and we have $1.52 trillion in student loan debt in the United States.  That's a lot of money!  What most people don't know are that some states offer student loan repayment programs for being residents.  That means less money you have to pay towards your loans and more money you can use towards paying off your debts.
Here are some programs that are mentioned on Lexington Law's blog:
Kansas: Rural Opportunity Zones can offer state income tax waivers and/or student loan repayments for new residents.
Ohio: The Hamilton Community Foundation offers the Talent Attraction Program (TAP) Scholarship for college graduates who will move to Hamilton.
Michigan: The St. Clair County Community Foundation offers the Come Home Award to STEAM (science, technology, engineering, arts, mathematics) graduates who will move to St. Clair County.
Some other programs include:
As you're looking through these programs and potential ones offered by an employer, you also want to pay close attention to how loan forgiveness impacts your taxes.  According to a post on Lexington Law's blog, this money may be considered taxable income and you need to be aware of the laws around the money you're receiving.
Taxes
One area where you can save money is through paying less taxes (state, sales, property, etc.)  This can vary by where you live and can be the difference between thousands of dollars per year to be used towards paying off debt.  The following states have no personal income tax:
Alaska
Florida
Nevada
South Dakota
Texas
Washington
And the following states have no sales tax:
Delaware
Montana
New Hampshire
Oregon
Something to keep in mind is that locations with no or low personal sales tax may have higher tax rates in other areas.  As you're trying to decide not only if you want to move, but where to move, make sure you understand how the new taxes will impact you.
Relocation Package
Some companies offer relocation packages for both new hires and for a move to another office.  This not only cuts the cost of you physically moving, but you also might move to a place with a much lower cost-to-income ratio.  All of which can help you save money to pay off your debts.
If you're currently working for an organization, look at the other office locations or see if full-time remote work is an option.  And before signing an offer, find out if they offer a relocation package.  This a great incentive and also cuts down on the hassle of moving.
Cost-to-Income Ratio
Remember, just because a place is inexpensive to live does not mean that you will "extra" money to pay off your debts.  Many companies pay their employees based on their cost of living for that particular area.  You want to make sure you look at your paycheck, benefits and how much it will cost you to live in that location before making the move.  That means taking into consideration:
Gas/tolls
Public transportation
Mortgage/rent
Car insurance
Parking fees
Food prices (grocery, average restaurant)
Some cities where you can get more for your paycheck are:
Dallas-Fort Worth, Texas
Charlotte, North Carolina
Denver, Colorado
Austin, Texas
Alternative Schooling
This may not be available to everyone, but if it is it can be a great option.  If you're enrolled in a program that requires a practicum, co-op or another hands-on experience where you spend a semester or a year away from the physical classroom; be smart about where you spend your time.  Among wanting to get a great experience, you should also consider the cost of where your program is located.
Talk to faculty, alumni and career services for suggestions on location.  Then investigate the cost of living and find a program that meets the requirements, provides an excellent experience and affords you the financial flexibility to save some money.
Other schools offer online courses where you can choose how you want to continue your schooling.  If this is available to you, you can consider moving and take the remainder of your courses online or at another campus in a less expensive location and put that money towards paying off debt.
Whether you're in the beginning stages of trying to figure out if moving is right for you or a little further along in the decision process; make sure you weigh all the pros and cons.  When we're faced with debt (big or small), it can have a major impact on our credit scores.  And these scores can affect our ability to get credit cards with rewards, mortgages, or even rent an apartment.  So, the more we do to stay ahead of it, the better!
If you haven't pulled your credit report, you can do so for free.  From there, you can seek help from someone like the professionals at Lexington Law to help you better understand and navigate your report and create strategies to increase your score.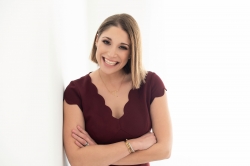 Latest posts by Alissa Carpenter
(see all)